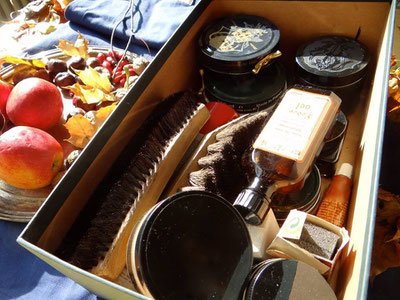 Pflege: 
Die Schuhputzkiste
Schon der Großvater besaß sie und richtete Sonntag abends die Schuhe. Meine Schuhputzkiste ist Legende. Auf der Fahrt in einem Kleinwagen nach Brüssel beschwerte sich mein lieber Freund und damaliger Mitbewohner Flo bitterlich, ob "dieser Schuhschnickschnack" angesicht unseres vollgepackten Autos wirklich notwendig sei. Drei Monate später war "die Schuhputzkiste" Ehrenmitglied unserer WG in Ixelles. Für den Anfang besteht die absolute Mindestausstattung aus hochwertiger Schuhcreme, Bürste und Impregnierspray. Niemals Selbstglanzprodukte oder künstliche "Schuhpflege" aus der Tube für gutes Leder verwenden! Das Bild zeigt etwa ein Drittel meines Schuhpflegearsenals.
Taking care: The Shoe polish kit
Already grandfathers owned the shoe polish kit and took care of shoes sunday evening. My shoe polish kit is legend. On the journey in a runabout to Brussels my dear friend and at that time flatmate Flo bitterly complained "whether this shoe junk" is really necessary in light of our tightly packed car. Three month later "the shoe polish kit" was honorary member in our flat in Ixelles. To get started, minimum equipment is a decent shoe polish, brush and impregnation spray. Never ever use self shining high gloss products and synthetic "shoe polish" out of the tube for fine leather! The picture shows about a third of my shoe care equipment.